§≡≡≡≡ Functions ≡≡≡≡
1. Surface contour evaluation: It can evaluate radius, angle, distance, coordinates, circle, circular cross section, and determine the points, each intersectant point, coordinate axis, straight line, vertical line, circle and circular cross section, and analyze the straightness, roundness of contour;
(1)Establish a regression line and a circle
(2)Establish the points, intersectant points, free points, center point, the highest point and the lowest point
(3)Establish the coordinate system
(4)Calculate the radius, distance, angle, coordinates and linear deviation
(5)Compare actual value with nominal value
(6)The measurement program runs automatically
2. SJ5701 can evaluate surface roughness: Ra, Rz, Rt, RS, RSm, Rp, Rv, Rq, Rt, Rmax, D, Rmr curve, Rdc, etc.
3. CNC Automatic mode is supported; SPC statistics and analysis are supported
4. Support to import CAD file and annotate CAD profile.
5. Support to import PDF profile data.
6. Can export test data to the Word, Excel, AutoCAD(Optional)
7. Output multiple kinds of report format, and support user-defined report, or customize report(optional)
8. Can query and manage the test records according to object type, manufacturer, manufacturing number, inspector, submitted institution, equipment number, inspection date or effective date etc.
9. Can print multiple selected test records or test certificates from database at once time
10. User-friendly software interface
11. Data backup and restore
§≡≡≡≡ Photo ≡≡≡≡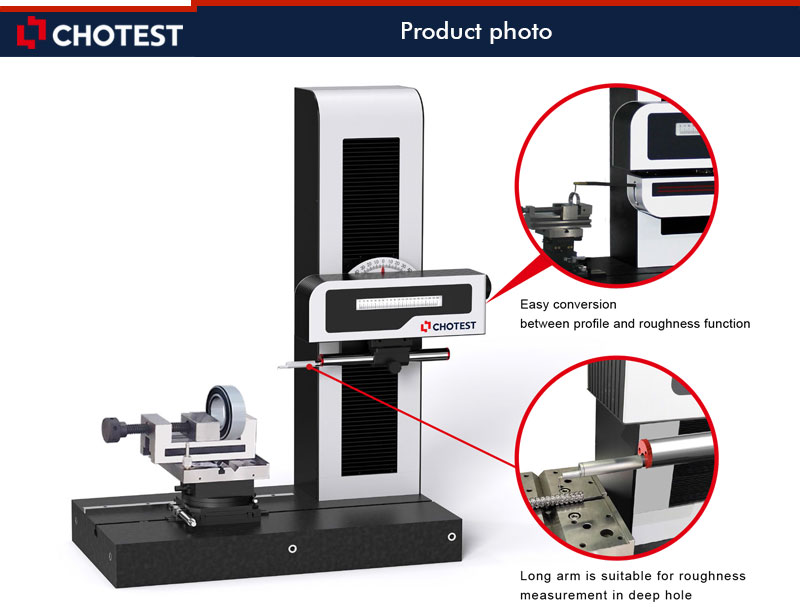 §≡≡≡≡ Parameters ≡≡≡≡
Item No

SJ5701

Profile measurement:

(1) X-axis

Measuring range

(0~200)mm

Indication error

±(0.6+1.5L/100)µm,




L is horizontal measured length in mm

Resolution

0.01μm

Strightness

2μm/200mm

Scanning speed

(0.05~5)mm/s

Moving speed

(0~10)mm/s

(2) Z1-axis

Measuring range

±25mm

Indication error

±(0.6+|4H|/100)µm




H is vertical measured height in mm

Resolution

0.01μm

(3) Z-axis

Measuring range

(0~450)mm

Moving speed

(0~10)mm/s

(4) Measuring force

(10~150)mN

(5) Max gradient

uphill 77 º / downhill 83º

(6) Object table

Rotation angle: 360º; X, Y movement: 15mm

(7) Dimension & weight

Marble base: 800×450×100mm




Overall:(850×450×1000)mm




150kg

(8) Operating environment

No strong magnetic field, no vibration, no corrosive gas;

Operating temperature: 20 ± 2℃; Relative humidity: 10-70%

Roughness measurement:

(1) Basic parameters

Measuring range

X: 200mm; Z0:±800µm

Error of strightness

≤0.15µm/20mm, ≤0.4µm/100mm

Indication error

± ( 0.005+0.025A) μm, A ( Ra) μm

Resolution

Z0: 0.001µm

Scanning speed

0.05~0.5 mm/s adjustable
Built-in roughtness standards
Parameter classification

Parameters

Roughness

Ra , Rq , Rz , Rmax , Rpc , Rz-JIS , Rt , Rp , Rv , R3z , RSm , Rs , Rsk ,

Rku , Rdq , Rlq , Rdc , RHSC , Rmr , Rz-L , Rp-L , R3z-L , Rdc-L , RMr-L ,

Pdc-L , PMr-L

Key roughness

Rk , Rpk , Rvk , Rpkx , Rvkx , Mr1 , Mr2 , A1 , A2 , Vo

Profile

Pa , Pq , Pt , Pp , Pv , PSm , Psk , Pku , Pdq , Plq , Pdc , PHSC , PPc , PMr

Waviness of Profile

Wa , Wq , Wt , Wp , Wv , WSm , Wsk , Wku , Wdg , Wdc , WMr

Motif

R , Ar , W , Aw , Rx , Wx , Wte , Nr , Ncrx , Nw , Cpm , CR , CF , CL

ISO 5436

Pt , D
§≡≡≡≡ Features ≡≡≡≡
1. High precision, high stability, high repeatability: fully meet the measurement requirements of test object.
1)The world's leading high-precision linear encoder system and high-precision inductance measurement system;
2)High-precision grinding rail is made of good material with high wear resistance.
3)High-performance linear motor driving system
2. Intelligent measurement software
Thanks to friendly software interface, the operator can grasp the basic operation of the machine.
3. Can measure multiple parameters
Automated evaluation of roughness including Ra, Rz, Rp, Rt, etc.
Measuring force controlled by voice coil motor driving system is continuously adjustable from 10mN to 150mN, and the resolution of measuring force is 0.2mN;
5. Intelligent protection system
Once the measuring probe collides with test object / workholder, or tensile force to measuring probe is too large during scanning process, the machine will stop scanning in order to protect measuring probe and measuring system.
6. Flexible manual control
The machine is equipped with a joystick, which can be used to position the probe before measurement. The operator can control the measuring probe to move up and down, left and right quickly without the computer.
§≡≡≡≡ Applications ≡≡≡≡

Scanning curve of Roughness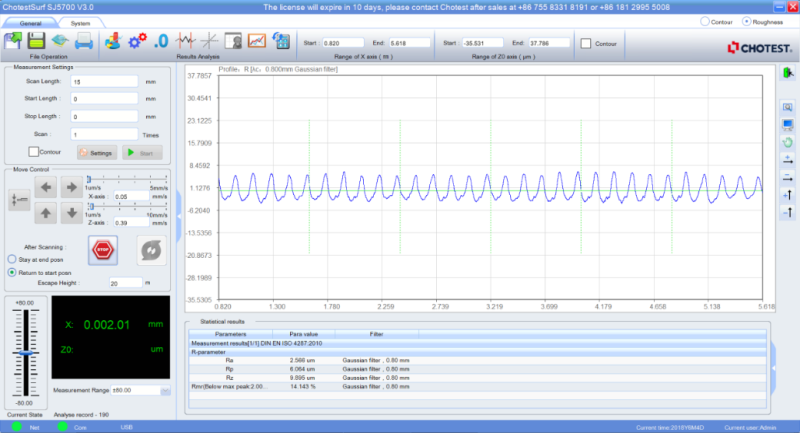 Scanning curve of Profile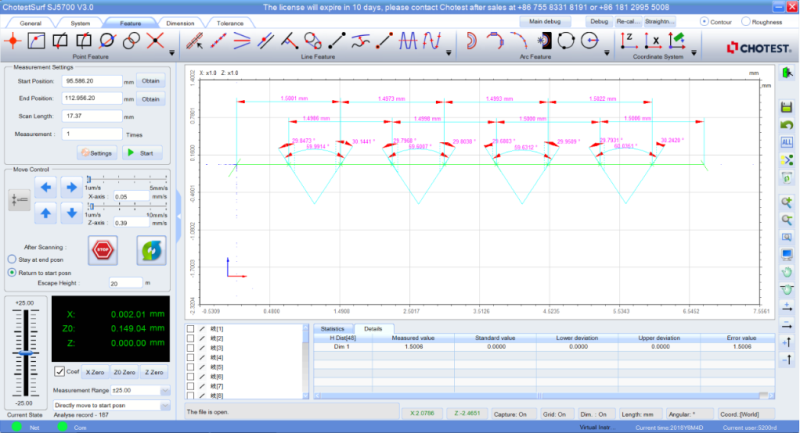 §≡≡≡≡ Configuration ≡≡≡≡
Standard configuration:
1)Profile measurement module
2)Long-arm roughness module(including Measuring probe)
2.Combined calibration gauge for profile
3.Roughness master gauge Ra: 0.8
4. Combined probe-- DQ-30
9. Aluminium alloy suitcase for accessories
11. Product certification and Warranty card