1. High accuracy(precision Heidenhain glass-scale, precision guide rail)
2. High reliability(100,000 repetitive experiments)
3. High speed: fast measurement and stable indication value
4. Easy to calibrate
5. Measuring spindle which is guided by the linear rolling bearing can bear big radial force in travel, at the same time its` micro friction is very small.
6. Wide application: Manual measurement or positioning of equipments. Fast, accurate, reliable measurement for length, separation distance, height, thickness or linear displacement.
§≡≡≡≡ Photo ≡≡≡≡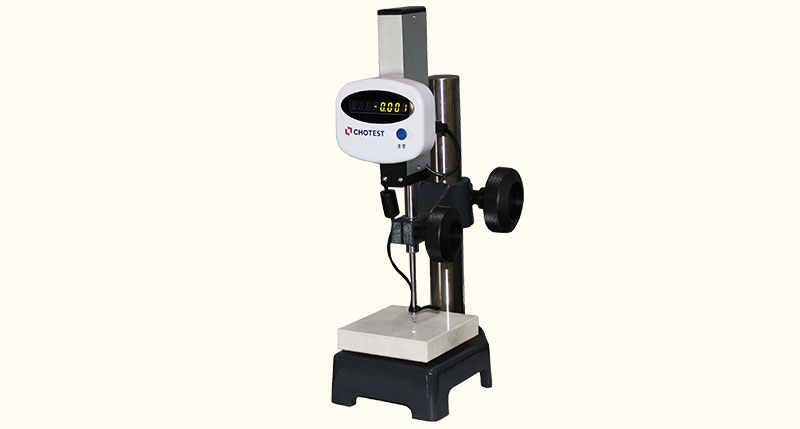 §≡≡≡≡ Parameters ≡≡≡≡
Item No.

SJ207

Configuration

50mm measuring tip + SJ102 + Ceramic object table

Measuring range

(0-50)mm

Measuring system

Incremental linear encoder system

Driving type

Sping

Accuracy (20°C)

1μm

Repeatability

0.2μm

Resolution

0.1μm, 0.5μm, 1μm convertible

Speed

<7.2m/s

Measuring force

1.2N-1.6N

Display

Nixie tube

Measuring tip

Alloy measuring tip with spherical face(plain face, needle face

and eccentric probe are optional)

Interface

RS-232C

Input voltage

AC100-240V 50Hz-60Hz

Function

Automatic zeroing / data calibration

Unit

mm / inch

Operating temperature

(0-40)℃, Standard 20℃
§≡≡≡≡ Description ≡≡≡≡
SJ200 series is precision measuring instrument with large measuring range, which are particularly designed for various industrial domains and testing institutes. On basis of Heidenhain precision linear encoder system, exact adherence to the Abbe principle, designed as optimal mechanical and thermal stability, SJ200 series possesses features of high accuracy, high stability, high repeatability, etc.
SJ200 series is widely used for product testing, multiple points testing, measuring devices monitoring and position measurement.
Resolution of SJ207 is 0.1 um, and min indication value can be switched between 0.5 um and 1 um. Measuring range is 50mm.
Accuracy is within 1um at 20℃.
RS-232C and print interface are the standard configuration.