1. Full-automatic measurement for comprehensive parameters of cylindrical thread plug gauges, cylindrical thread ring gauges, taper thread plug gauges, taper thread ring gauges, plain ring gauges, plain plug gauges and other gauges with internal & external dimensions, including virtual pitch diameter , single pitch diameter, basic pitch diameter, major diameter, minor diameter, thread pitch, thread angle, half of thread angle, flank straightness, lead angle, taper, etc.
2. Can measure trapezoidal thread, buttress thread, sawtooth thread and other large-slope thread, as well as ordinary thread.
3. Can measure comprehensive parameters of single thread and multiple thread
4. Measure various thread gauges according to GB, ISO, BS, ANSI, DIN, JIS standards. With comprehensive and professional thread standards in database, it meets requirements of most customers.
5. Automatically generate test results according to relevant regulations and standards.
6. After one time measurement, the software can records various parameters of thread and display data of any position, in addition it generates the thread curve, relevant parameters and analysis chart automatically.
7. Measuring probe and workholder are identified automatically, which avoids collision of measuring probe caused by operating errors.
§≡≡≡≡ Photo ≡≡≡≡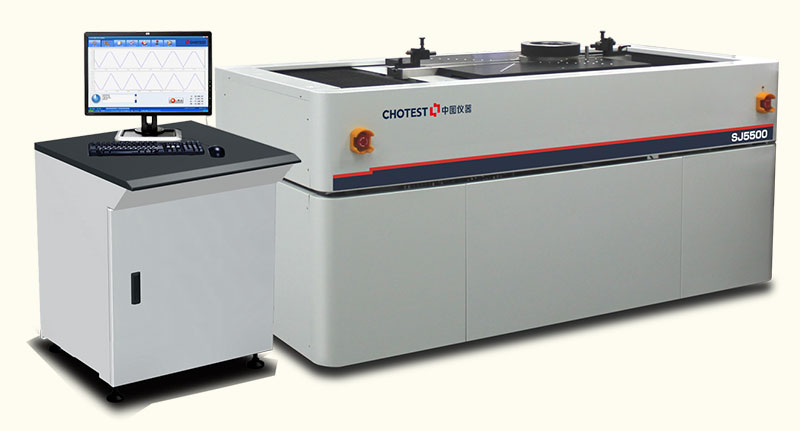 §≡≡≡≡ Parameters ≡≡≡≡
Item No.

SJ5500-200

SJ5500-300

SJ5500-400

SJ5500-500

SJ5500-600

Outside measuring range

(1.0-250)mm

(1.0-350)mm

(1.0-450)mm

(1.0-550)mm

(1.0-620)mm

Inside measuring range

(2.5-250)mm

(2.5-350)mm

(2.5-450)mm

(2.5-550)mm

(2.5-620)mm

Max measuring length

250mm

Min thread pitch

0.1mm

Weight

2000kg

Dimension

200×90×91cm

Measuring uncertainty:

Cylindrical or Taper ring gauge(Mimor diameter >2.5mm, half of thread angle ≥27°)

Minor diameter(μm)

3.0 + L/200

Pitch diameter(μm)

3.0 + L/200

Thread pitch(μm)

0.8 + L/200

Cylindrical or Taper plug gauge (Major diameter >1.0mm, half of thread angle ≥27°)

Major diameter(μm)

2.9 + L/200

Pitch diameter(μm)

2.9 + L/200

Thread pitch(μm)

0.8 + L/200

Plain ring or plug gauge(μm)

2.0 + L/200

Other measurement(μm)

2.0 + L/200

Contour measurement

Outside measuring range

(0-250)mm

(0-350)mm

(0-450)mm

(0-550)mm

(0-620)mm

Inside measuring range

(2.5-250)mm

(2.5-350)mm

(2.5-450)mm

(2.5-550)mm

(2.5-620)mm

Resolution of X-axis and Y-axis

0.01μm

Accuracy of X-axis

±(1.5+L/100)μm

Accuracy of Z-axis

±(1.5+L/100)μm

Max gradient

75°(T-shaped measuring probe)

Measuring force

(40-150)mN

Measuring speed

(0.01-2)mm/s
§≡≡≡≡ Description ≡≡≡≡
SJ5500 achieves full-automated and precision measurement of comprehensive thread parameters by using Heidenhain precision linear encoder system, precision air bearing drive system, imported servo motor control system, high performance industrial computer control system and large capacity memory technology. After driving the measuring probe to contact with workpiece by precision air bearing system, the software records the horizontal and vertical coordinates in measuring process by applying Heidenhain precision linear encoder system, then, on the basis of synthesizing the two-dimensional measuring values , the software calculates and obtains a variety of thread parameters according to relevant definitions.
SJ5500 is a full-automated measuring machine. The operator only needs to install the thread, select matching standard and input relevant sizes & measuring range & other parameters in software, then the system measures automatically after click the "start" button. The software displays real-time tooth profile curve of thread and calculate the major diameter, pitch diameter, minor diameter, thread pitch, thread angle, other thread parameters automatically. Finally the system qualifies a variety of thread parameters according to built-in thread standards, and test result is generated automatically. The whole process is completed in 2 min.
§≡≡≡≡ Features ≡≡≡≡
1. Full-automated measurement
Without human intervention, the machine implements measurement and evaluation of all thread parameters in 4 min, finally displays all measuring parameters. According to built-in thread standards, the system generates the test report automatically. That significantly simplifies the operator's work as well as improves the measuring efficiency, quality and accuracy.
2. Unilateral or bilateral measurement of contour
The machine measures and inspects contour, two-dimensional dimension, two-dimensional displacement of the workpiece, and surface contour curve is described directly. On the basis of measured contour data, the software calculates and obtains dimensions, form & location tolerance and other parameters rapidly. The test result is reliable and operation is simple & easy. With both thread measurement and contour measurement SJ5500 is high cost-performance.
3. High accuracy, high stability and high repeatability
4. SmartTouch intelligent measuring technology (Patent No.1)
By using real-time control device and intelligent sensing device for measuring force, the problem of abrasion of measuring pin is solved, particularly large-slope thread can be direct measured. The measuring force is adjustable from 0.1~10gf by real-time control device which can adjust measuring force accurately. Resolution of intelligent sensing device is up to 0.1gf, which can help to protect measuring pin very well.
5. Simple, humanized design
With quick workholders for thread and user-friendly software UI, without complex adjustment process and manual recording, the operator can be trained to use it within a few minutes. Operation of the machine is extremely simple.
6. 3D navigation function(Patent No.2)
3D navigation graphics of measuring probe, workholder and workpiece is built by applying 3D graphics technology, which realizes multi-angle display in real-time, consequently, probability of collision of measuring probe is minimized. The operating convenience, accuracy, safety and reliability are improved greatly.
7. Convenient and accurate replacement of measuring pin(Patent No.3)
In the innovative structure for installation of measuring probe, the probe holder is fixed vertically(the probe holder aligns cross section of thread). This structure eliminates errors caused by repeated installation, so the repeatability is excellent.
8. Precision vibration isolation system
Avoid external vibration interference by using imported precision vibration isolation system, which lays the foundation for precision measurement.
9. Accurate & sensitive measuring force system
Automatic control by computer in both directions. Measuring force range: 0.01 ~ 0.10N, that is far less than 0.14N of the similar machines. The micro measuring force protects measuring pin from abrasion, so life of measuring probe is infinite, in addition workpieces are protected as well. The micro measuring force greatly helps to achieve measurements for large-slope threads as well as precision measurements for the ordinary threads.
§≡≡≡≡ Applications ≡≡≡≡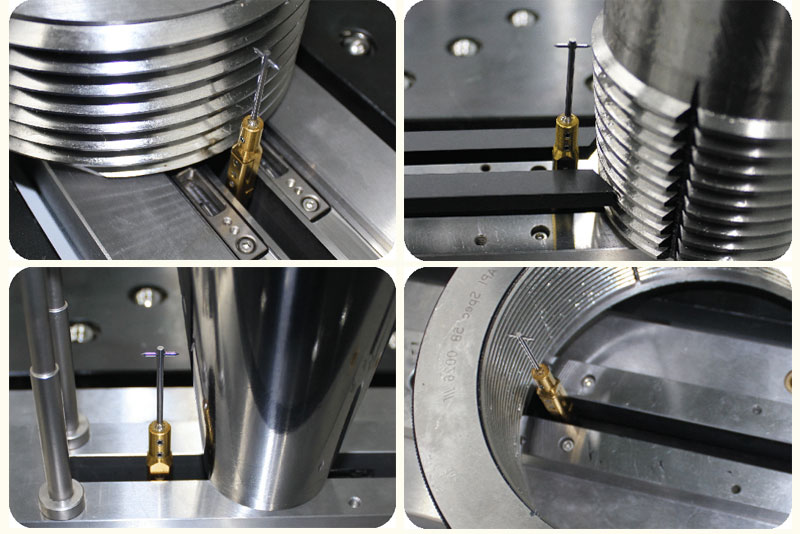 Can measure:
Thread plug gauge
Shell thread plug gauge
Thread ring gauge
Shell thread ring gauge
American Standard unified thread gauge
55 ° non-sealing pipe thread plug gauge
55 ° non-sealing pipe thread ring gauge
Thread sealing pipe thread with Regulation (RB)
Wei's taper pipe thread gauges
Brunel taper pipe thread gauges
ACME taper pipe thread gauge
DIN thread gauge
JIS thread gauge
Special thread gauges for gas cylinders
ACME cylinder pipe thread gauge
API SPEC 5B series gauge:
Oil pipe thread gauge
Oil pipe taper gauge
Oil pipe taper master gauge
Oil casing thread gauge
Oil casing taper gauge
Oil casing taper master gauge
Oil pipeline gauge
API SPEC7-2 series gauge:
Numeric oil drill pipe joint thread gauge
Numeric oil drill pipe joint thread master gauge
Regular type oil drill pipe joint thread gauge
Regular type oil drill pipe joint thread master gauge
Full bore type oil drill pipe joint thread gauge
Full bore type oil drill pipe joint thread master gauge
API SPEC 11B series gauge:
Rod thread gauge
Double pin plug gauge
Double taper plug gauge
Incompetence plain plug gauge
Plain master ring gauge
Trapezoidal thread plug gauge
§≡≡≡≡ Configuration ≡≡≡≡
Standard configuration
1. SJ5500 host machine
2. Workholders
3. Jacking fixture
3. Measuring pins group
4. Standard thread gauges
5. Standard plain ring gauges
6. Standard plain plug gauges
7. Built-in regulations and standards
8. Testing software
9. Computer
10. HP color laser printer
11. Aluminum alloy box for accessories
12. User manual
13. Product certification and warranty card
Optional configuration
1. Software module for trapezoidal thread measurement
3. Measuring pins for trapezoidal thread measurement
4. Software module for profile measurement
5. Measuring tips with spherical face
6. Other workholders
7. Water-free, oil-free, silent air supply system
8. Electronic moisture-proof case